Waltrip's win a sad end to tragic race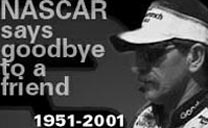 By John Donovan, CNNSI.com
February 18, 2001
10:20 PM EST (0320 GMT)
DAYTONA BEACH, Fla. -- Michael Waltrip's first Winston Cup victory was a long time coming. And he knew, even before he heard the tragic news, who he had to thank for it.
"The only person who won this race was Dale Earnhardt," Waltrip said. "He's more than my team owner. He's my friend.
"I'm just so thankful for everything he's done for me."
Waltrip's first win in 463 Winston Cup tries came Sunday at the sport's biggest showcase, the Daytona 500. But it also came at the sport's biggest price.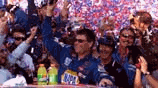 Michael Waltrip's Victory Lane celebration was short-lived.
Earnhardt, one of the most popular drivers on the circuit and maybe its best driver ever, died from injuries he suffered in a last-lap accident, just seconds before his friend crossed the finish line.
He was 49 years old.
It was a shocking and tragic ending to an exciting -- and, even before Earnhardt's wreck, extremely scary -- 200-lap race at Daytona International Speedway. It also was a moment that was so sweet for Waltrip, before he was informed of Earnhardt's win, and so sad afterward.
Waltrip drove a Chevrolet for Dale Earnhardt Inc. and was a teammate of Earnhardt's son, Dale Earnhardt Jr., who finished second. In victory lane afterward, before he realized the terrible extent of Earnhardt's injuries, Waltrip credited Earnhardt with saving his career.
"This is not anything personal to you all," he told the jubilant team members, friends and family who crowded into victory lane, "but the only person who won this race was Dale Earnhardt. I was just so looking forward to doing well for him and then he wasn't there ... and I didn't know that he was hurt."
Earnhardt was pronounced dead at a Daytona Beach hospital less than an hour later.
Because of his long winless streak, Waltrip was a surprise winner here. But he took over the lead with 17 laps left and, with help from the senior Earnhardt, held off a hard-charging Sterling Marlin and the younger Earnhardt to win the $1.3 million first prize.
"With ... Earnhardt blocking and Earnhardt Jr. blocking ... well, that's what you're supposed to do, and there just wasn't much I could do," Marlin said. "I couldn't get any help."
The race featured just what NASCAR wanted to see when officials implemented changes in the aerodynamic makeup of the cars. There were 50 lead changes -- there were only nine in last year's 500 -- among 14 drivers and close racing throughout. Cars passed and fell back seemingly at will, and the racing was often three-wide across the track.
Still, the race was surprisingly trouble-free until 25 laps remained. That's when Robby Gordon appeared to tag Ward Burton coming into the 3,000-foot backstretch. He spun into Tony Stewart and all hell broke loose.
Stewart's car became airborne, landed on the top of the car driven by Bobby Labonte, triggering an accident that involved 18 cars -- more than half the field that was running at the time.
Stewart was injured in the wreck and admitted, briefly, to the same area hospital where Earnhardt was later taken.
"This is the Daytona 500," said driver John Andretti, knocked out of the race in the wreck. "We were getting close to the end of it, and everyone wants to win."
There were concerns before the race that, with such close racing, an accident was inevitable.
"Accidents are inevitable," Andretti said, "when drivers are reaching to their limits."
Said Dale Jarrett: "I'm sorry, but that's not racing. It may be a great show out there [in the grandstand], but from a driver's perspective, that's not it."
After a red-flag delay, racing resumed and Waltrip took over the lead shortly after. Thanks to Earnhardt and his son, blocking for their teammate and friend, Waltrip was hardly threatened the rest of the way.
After a week filled with concerns that the new Dodge entries would run away with the race, two Chevrolets showed the way. The top 10 featured three Chevys, three Dodges and four Fords.
None of that, though, will be remembered. Nor will the big 18-car wreck, or the close racing or even Waltrip's first, badly deserved win.
The 2001 Daytona 500, the Super Bowl of stock-car racing, will go down, simply, as maybe the most tragic race in a sport littered with tragedies.
Earnhardt dies following Daytona 500 accident
By Dave Rodman, Turner Sports Interactive
February 19, 2001
12:40 AM EST (0540 GMT)
DAYTONA BEACH, Fla. -- Seven-time NASCAR Winston Cup champion Dale Earnhardt, 49, was fatally injured Sunday in a multi-car accident on the final lap of the 43rd Daytona 500 at Daytona International Speedway.
Earnhardt, a native of Kannapolis, N.C., was Daytona's career victories leader and the winner of the 1998 Daytona 500. According to Dr. Steve Bohannon, emergency medical services director at Daytona International Speedway who responded to the crash, Earnhardt was killed instantly.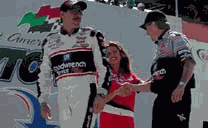 Dale Earnhardt, prior to Sunday's Daytona 500
"He had what I feel were life-ending type injuries at the time of impact," Dr. Bohannon said. "Really nothing could be done for him."
The announcement was made at 7 p.m. ET by NASCAR President Mike Helton.
"Undoubtedly this is one of the toughest announcements I've personally had to make," said Helton, whose motorsports career covers more than 20 years. "After the accident in Turn 4 at the end of the Daytona 500 we've lost Dale Earnhardt."
Earnhardt's death was the 27th in the history of the track, which opened with the inaugural Speedweeks in 1959. The first fatality was Daytona Beach native Marshall Teague, who died before Speedweeks began while testing an Indy car for a world closed course speed record.
"NASCAR has lost its greatest driver," said NASCAR chairman of the board Bill France, who himself is recovering from life-threatening illnesses, "and I personally have lost a great friend."
"The death of Dale Earnhardt is heartbreaking for millions of racing fans around the world," said Eddie Gossage, General Manager of Texas Motor Speedway. "I, too, am heartbroken. Athletes in other sports would be wise to follow Dale's model of what a champion is supposed to be. He had great dignity - both on the track and off."
Earnhardt started his 23rd Daytona 500 from the seventh position and was racing for third when the accident occurred.
His No. 3 Richard Childress Racing Chevrolet was bumped into the spin by Sterling Marlin's closely following No. 40 Dodge between Turns 3 and 4 of the 2.5-mile speedway as a tangled pack of cars raced to the checkered flag. Rescue workers immediately responded and began administering oxygen and CPR to Earnhardt, who according to Dr. Bohannon never showed any sign of life at any time.
He was immediately transported to Halifax Medical Center, less than one-mile from the speedway, where he arrived at 4:54. There, a waiting trauma team continued attempting to resuscitate him. Earnhardt was pronounced dead at 5:16 with his wife, Teresa at his side. Bohannon said an autopsy scheduled for Monday would reveal the cause of death, but said, "my speculation would be head injuries, basically to the base of the skull."
Dale Earnhardt Jr., 26, immediately left the track after finishing second in the race to be at the hospital with his father and stepmother, Earnhardt's wife Teresa. Earnhardt's newest driver, Michael Waltrip, was interviewed in the Daytona press box after his first career victory in 463 starts without realizing his car owner was already deceased.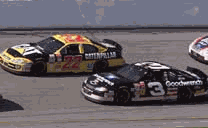 Dale Earnhardt won 76 NASCAR Winston Cup races.
In the accident, Ken Schrader's No. 36 Pontiac struck Earnhardt's car in the right side after the famous black No. 3 shot up the race track to spear the outside wall.
"I don't know what happened -- all of a sudden we were all crashing," said Schrader, who was unhurt in the accident. "I guess someone got into Dale because Dale got into me and then we went up. We hit pretty hard and Dale hit harder."
Schrader tried to visit Earnhardt's car after the accident ended, but quickly left the area.
"I went over there and then they (safety workers) got there real quick, so I got the hell out of the way," Schrader said. "I'm fine. I'm fine -- I'm just thinking about Dale and those guys."
"The only reason why I won this race was Dale Earnhardt," said Waltrip, who was unaware of the news while he was being interviewed. "I wondered why he wasn't in Victory Lane until I found out he was hurt."
Earnhardt was the career victories leader at Daytona. His 34th career victory here came in the 2000 opening round of the True Value International Race of Champions.
He made 676 starts in his Winston Cup career, which began in 1975. He was the 1975 Winston Cup Rookie of the Year and won his first championship the next season. He is sixth on the career Winston Cup victories list with 76 and was on a path to break Terry Labonte's current consecutive starts record of 655. Earnhardt's final start was his 649th straight.
Earnhardt is motorsports' leading all-time money winner with $41,639,662 in his career. He had also fashioned a multi-million-dollar business and souvenir empire.
Included among Earnhardt's survivors are wife Teresa, daughters Kelley King and Taylor, sons Kerry and Dale Jr., his mother and other siblings.
The standard post-Daytona 500 ceremony to induct Waltrip's winning car into DAYTONA USA, the "Official Attraction of NASCAR" located outside the track's Turn 4, which was scheduled to take place Monday morning, has been postponed indefinitely in deference to Earnhardt's death, NASCAR director of operations Kevin Triplett announced at about 8 p.m. ET.
The Earnhardt accident: How it happened
By Marty Smith, Turner Sports Interactive
February 18, 2001
9:33 PM EST (0233 GMT)
DAYTONA BEACH, Fla. -- When it occurred, the accident that claimed Dale Earnhardt's life didn't look all that violent.
Earnhardt was battling Kenny Schrader, an old nemesis with visions of a return to glory, door-to-door down the backstretch and into Turn 3 on the final lap of Sunday's Daytona 500. Several cars, including those of Rusty Wallace and Sterling Marlin, were in tow.
Both Earnhardt and Schrader yearned to place their team in the top three behind race-winner Michael Waltrip and runner-up Dale Earnhardt Jr., and both refused to give an inch.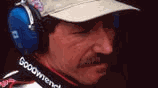 Dale Earnhardt scored 7 NASCAR Winston Cup Championships.
As they entered Turn 3, Wallace sneaked between Marlin and Schrader to Earnhardt's rear bumper. Marlin got a bit loose, and subsequently tapped Earnhardt in the right rear quarter panel, sending him up the track and into the Turn 4 wall at approximately a 45-degree angle.
Schrader, unable to maneuver around Earnhardt, plowed into the side of his Chevrolet.
The two slid down the track and into the infield grass. Schrader quickly jumped out. Earnhardt did not.
"I don't know for sure what happened," Schrader said. "We all spread out going down the back straightaway. I knew that was going to happen. I was just hoping we'd get someone to go with us.
"They spread out, so I just hung with the guys on the outside. I guess someone got into Dale because Dale got into me and then we went up (the track). We hit pretty hard, and Dale hit harder."
Hard enough to kill the man whom NASCAR Chairman of the Board Bill France called "the greatest driver ever."
Recalling Earnhardt's desire to win the Daytona 500
By Jim Huber, Turner Sports Interactive
February 19, 2001
12:04 AM EST (0504 GMT)
Commentary
It was early in January, 1998. Super Bowl 33 had only been history for a few hours and Dale Earnhardt was still reveling in the memory.

Jim Huber
"There was Elway," he laughed at the time, "finally getting to celebrate winning the big one. The Big One. Boy, could I identify with that! I figure, if he can finally break the jinx and win the Super Bowl, I can, too."
We were sitting outside the small brick home that was his office next to the new Earnhardt complex. His horses were corralled nearby and they hung their heads over the fence.
Carloads of fans would occasionally pull into the driveway. The look on their faces, both the horses and the fans, had the same sense of adoration and care.
He was a few weeks away from yet another Daytona 500. Earnhardt and Elway had battled the same demons over the years, always able to win the small ones, even some of the nearly-large ones, never The Big One.
And now, with the memory of Elway's win ringing merrily in his ears, he was about to head South with newfound determination.
He was an interesting study. I had never spent much time around the man, never one-on-one like this. I had read the stories, heard the tales, a nasty fellow with a penchant for intimidation. See that black number 3 in your rear-view mirror and you knew it was history. He knew, too.
"Maybe," he laughed at the thought, "maybe that works, who knows? But until it doesn't, I'll keep tappin' their bumpers and showin' up on their tails."
I liked the man, enjoyed my time with him, grew to appreciate his talent and understand a bit of his alure to the crowds.
He sat, patiently, and handled the naïve questions of an outsider. The interview lasted at least an hour and then we walked the back fence, rubbed the horses' muzzles and talked racing.
Two weeks later, he followed John Elway's lead and finally won his own Super Bowl after so many years trying. Finally made it to the winner's circle. He'd won seven championships but they never were complete, never full, until that February three years ago after our time together.
So many thoughts raced crazily through my mind as I heard the news Sunday. Not even 50, he was gone. Watching his son protect his newest comrade win Daytona just a few feet in front of him, he was gone. You have your thoughts of him, whatever they might be, and they will be with you forever, whether you liked the man or hated him (and those camps seem rather silly now, in retrospect, don't they?)
It will be a long, black-patched season, full of the angst of yet another tragic loss in the rear-view mirror of grandness. But that is my thought. Of Elway setting the stage, proving it could finally be done. And Earnhardt taking the challenge just a month later. And of the horses, who cared only for his touch.
Once Earnhardt fans, always Earnhardt fans
By Mark Newman, Turner Sports Interactive
February 19, 2001
12:32 AM EST (0532 GMT)
DAYTONA BEACH, Fla. -- I took the accompanying photo just before the start of Sunday's Daytona 500 because Dale Earnhardt had That Look. It was the intense gameface that I'd heard about, and there was none like it in all of professional sports.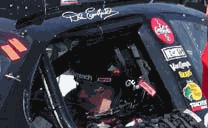 Dale Earnhardt awaits the command to fire his engine prior to the 43rd Daytona 500.
This was my first NASCAR race, and this was a vision that I knew I was going to remember. Walking amongst the 43 cars lined up on pit road, no other driver had that same look of intensity at that moment, at least not yet.
More than four hours later, I had a horrific feeling about that same helmeted man in the cockpit. We waited in the media center for the word that most of us already knew was about to come. It was delivered with these four heartbreaking words from NASCAR President Mike Helton:
"We've lost Dale Earnhardt."
My first NASCAR race. Earnhardt's last.
You immediately sensed the full extent of the legend when you walked around the Speedweeks of Daytona. You knew it when the black No. 3 Oreo car passed any other car on the speedway. There was a roar. They are the same minions who had made Earnhardt a nonpareil figure in the collectibles business, and the same ones who had seen him break through here in 1998 with his first Daytona 500 victory.
Long live the king.
I hadn't needed to see proof of this legend, but it was there on the shirts of the fans here. And it was in the tears of the people around me as I stood by Earnhardt's transporter following the fatal crash…waiting with his crewmembers for the word that no one wanted to hear.
This was a brilliant and crisp Florida afternoon in the "birthplace of speed." Through 175 laps, the race was remarkably clean. More to the point, the entire Speedweeks package had been remarkably clean. You wondered if it could last. And then came the crash that involved more than 19 cars. It was violent. Earnhardt survived that one. Tony Stewart somehow survived it. I watched the twisted metal roll off, one by one, back into the garage area, while Earnhardt resumed action back on the track.
Why do drivers seem to survive the most gruesome-looking crashes while we seem to lose our heroes in seemingly milder incidents? I thought that at the time of the Stewart crash on lap 175. Everyone asks that question. I thought that when I saw that Michael Waltrip took this checkered flag.
Earlier in the week, I had been in Talladega and visited the International Motorsports Hall of Fame for the first time. There I had seen the separated remains of the Kool-Aid car Waltrip drove at Bristol a decade ago. There are photos of the crash that split his car in two, showing Waltrip exposed in his open seat over the hard track. The sign over the display read: "Worst Crash In Racing History."
Waltrip walked away from it cleanly. Amazing. Yet on this day, he crossed the finish line as his team owner hit the wall a turn behind him, a less-than-spectacular collision as crashes go. How many crashes must Earnhardt have been through? Dozens, from big to small. One tough cookie, they were saying this week, as a way of trumpeting the Oreo model that he rolled onto Daytona.
Consider:
In July 1996, Earnhardt broke a collarbone and sternum in a crash at Talladega. Two weeks later, he won the pole at Watkins Glen with a track record.
In the fall of 1979, Earnhardt began a streak of consecutive starts that reached an amazing 649 with his fatal Daytona run. In April, he would have been due to surpass Terry Labonte's NASCAR Winston Cup Series record of 655 consecutive starts. It was a milestone that would have made Earnhardt fans proud.
Dale never got there. At 5:16 p.m. Sunday, he was pronounced dead at Halifax Medical Center in Daytona Beach. Back at the track, fans were scattered in the brightly lit Turn 4 stands where I had watched part of the race. They couldn't leave the scene of their hero's final turn.
In the infield, the first flag hung at half-staff. They undoubtedly will look that way throughout the South, on into the next NASCAR stop at Rockingham. The transporters slowly and sadly exited the garage area, one by one.
The red No. 8 Budweiser transporter pulled away, ready to now carry the torch for the Earnhardt racing family. Then went the black No. 3 transporter, carrying two cars on top, one extra and the one that hit the wall. I thought of all the team personnel who were devoted to sending Earnhardt toward Victory Lanes.
What happens to Chocolate Myers, the big teddy bear of a gasman on the No. 3 crew? What happens to Kevin Hamlin, the crew chief? Do they now go hire a driver? It's incomprehensible. No way can they ever run a No. 3 car again on the Winston Cup circuit. Maybe they'll roll out a No. 03 and carry on. Who's gonna fill those shoes? Maybe no one.
Life will go on in NASCAR, I am sure. It always does after the tragic loss of a driver. It does in all walks of life. I am not sure fans of Dale Earnhardt know how to do that right now, though. You can walk up to your first Daytona and see right away that it is all about devotion to your favorite driver. I grew up the son of Bill Elliott fans who take an RV to many of the races. You don't flip-flop. You NASCAR fans seem to hold onto your loyalties like no other fans. They may jump to a different car or a different sponsor, but the driver remains the same. I wonder about the Earnhardt fans out there. It's hard to think ahead right now, but if you're that fan, I wonder where you go from here.
I never got to know Earnhardt, but I miss him already. I'll miss That Look inside the cockpit.